Ten Tips to Help You Finish Writing Your Novel
by: Ann Roscopf Allen
Set aside a time to write and keep it sacred.
Remove all distractions while you write.
Outline your plot.
Avoid the intimidation of a blank computer screen.
Keep a draft mentality.
Don't feel compelled to begin at the beginning.
Organize your files, especially if you are not going to write in order.
Revise, revise, revise.
Don't be afraid of putting yourself out there.
Only you can determine when you are finished.
[ Read Full Article ]



Writing a Book

Writing Your Life Stories
by: LeAnn R. Ralph

Remember the time that you got into 'big trouble' when you were a kid because. . .?

Or what about the time that your little sister. . .?

Or how about the time that your mom was making. . .and burned the. . .?

You probably have hundreds of these stories tucked away in your memory. Perhaps you've even thought that someday you would like to write about them. There's only one problem. "I don't know where to start — I wouldn't know what to write," you think to yourself.

One simple technique that will help you recall those stories and put them into written form is called "clustering," which is featured in a book titled Writing the Natural Way by Gabriele Lusser Rico (copyright 1983; J.P. Tarcher, Inc.)

Whether you are aiming for publication or whether you just want to write down your stories for your children and grandchildren isn't important. The technique will help you to recall your life stories.

Materials needed: several sheets of paper; a pen or a pencil.

1. Find a comfortable place that's quiet where you can work for 15 to 30 minutes without being interrupted (kitchen table; desk in your office; easy chair in your living room).

2. Think of a subject that is meaningful for you, such as Christmas, Halloween, Thanksgiving, Valentine's Day, Fourth of July, Easter, New Year's Day. Other possibilities include birthdays, a beloved pet, a best friend, an older brother or sister, a younger brother or sister, a cousin, grandmother, grandfather, your mom or dad, a neighbor who was like a mother/father/grandmother/grandfather. Additional possibilities could include an enjoyable hobby, such as growing flowers, vegetable gardening, baking cookies, baking cakes, making candy, or sewing.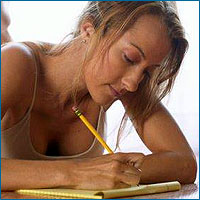 3. Write the subject that you have selected in the center of one of the sheets of paper and then circle it.

4. Draw a line with an arrow from your central word. Put it wherever it feels "right" to you. Up or down. Left or right. At an angle. Fill in the point of the arrow. Filling in the arrow will give your brain a few seconds to make the connection to the next word or phrase associated with your subject. The basis of the whole exercise is to allow your left brain and right brain to work together (to coordinate the analytical and the creative).

5. Draw another circle and write down the word or phrase inside the circle that has popped into your mind.

6. Repeat the steps of drawing arrows and circles and writing down the words or phrases that come to mind.

7. At some point in the exercise, you will suddenly think of an introductory sentence and you will feel a STRONG urge to start writing. Do not ignore the urge. Take another sheet of paper and start writing immediately. Do not try to edit what you are writing. Do not try to over-think what you are writing. Let yourself write what comes to mind.

8. Write for as long as the words keep coming.

9. When you feel that you have nothing more to say on the subject, put down your pen or pencil and relax for a few moments, then read what you have written. Whether it's one paragraph, a whole page, or several pages — congratulations! You have just written the first of your life stories!

10. Set your story aside for an hour or two or even a day or two. When you read it again, you may find that you have remembered more details that you would like to add. If so, go ahead and add them. If not, and you are satisfied with the piece, that's fine, too.

This exercise can be repeated for virtually any subject. You can also use it to help flesh out parts of your story to add more detail. Focus on a key word for a certain section of the story and see where the clustering technique takes you.

If you are interested in interviewing family members to record their life stories, be sure to check out LeAnn's e-book: "Preserve Your Family History (A Step-by-Step Guide for Writing Oral Histories)" at http://ruralroute2.com -- "Preserve Your Family History" ($7.95) contains more than 400 questions on 30 different topics to help you conduct your interviews. Even if you only record those interviews on tape (and don't actually write the oral history), you will still have collected some of your family stories. And isn't that the important thing?

Copyright LeAnn R. Ralph 2004

About The Author

LeAnn R. Ralph is an expert at writing her life stories. She is the author of the books "Christmas in Dairyland (True Stories from a Wisconsin Farm)" (July 2003) and "Give Me a Home Where the Dairy Cows Roam" (October 2004). "Highly recommended reading…" James A. Cox, Editor-in-Chief/Midwest Book Review. You are invited to read sample chapters and to sign up for the FREE! monthly newsletter from Rural Route 2. Visit http://ruralroute2.com.

bigpines@ruralroute2.com